Sing Along with Tobee (Super Simple Songs)
Wrote series introducing and teaching songs for Super Simple Songs - Kids Songs YouTube Channel.

Milo's Monster School Vlog (Super Simple TV)
Helped my friend Milo with his vlog appearing on Super Simple TV YouTube Channel.

Carl's Car Wash (Super Simple TV)
Wrote animated series appearing on Super Simple TV YouTube Channel.

Words with Puffballs (Sesame Studios)
Wrote math literacy series appearing on Sesame Studios YouTube Channel.

We're Amazing 1,2,3! (Sesame Workshop)
Adapted storybook about Julia, a preschool Muppet with autism, for their autism initiative, Sesame Street and Autism: See Amazing in All Children.

Wallykazam! (Nick Jr.)
"The Great Missing Potato" –When Norville's beloved Squeaky Cyclops toy is broken, he and Wally travel to the Great Wishing Potato to wish for it to be fixed. However, Bobgoblin is filling in for the Goblin Guard, and it turns out he's not the best at protecting the magical potato.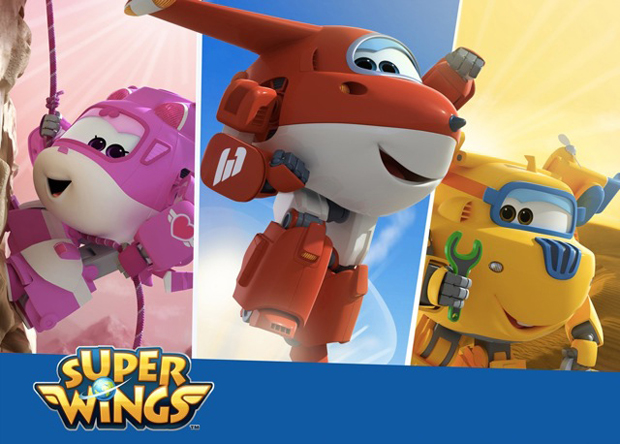 Super Wings! (FunnyFlux Entertainment, QianQi Animation, & Little Airplane Productions)
Wrote 25 11-minute episodes (titles TBA)– This animated pre-school series follows the adventures of an airplane named Jett who travels the world delivering unique packages to children. In each fast-moving episode, Jett encounters a new problem which he and his high-flying friends, the Super Wings, must work together to solve. Super Wings airs all over the world.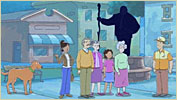 Martha Speaks (PBS Kids GO!)
"Martha: Deadline Doggie" – Martha sniffs out leads for Carolina's newspaper in hopes of being her Ace reporter, but runs into trouble when she can't separate facts from gossip. Can Martha redeem herself before she puts the paper out of business?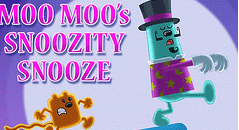 Wow! Wow! Wubbzy! (Nickelodeon)
"Moo Moo's Snoozity Snooze" – Wubbzy and the gang try to rescue a sleepwalking Moo Moo the Magician from himself as he unwittingly casts wacky spells all over Wuzzleburg while sleepwalking.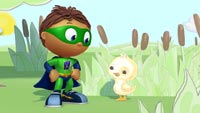 Super Why! (PBS Kids)
"The Ugly Duckling" – Princess Pea's twirls are falling flat and her dance recital is just days away. The Super Readers meet The Ugly Duckling who's having just as much trouble learning to swim. With hard work and determination, the Ugly Duckling finally hits his stride and Princess Pea learns that practice makes perfect.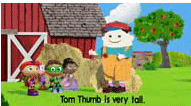 "Tom Thumb" – Pig's ready for an adventure, but his brothers tell him he's too young to go on his own. The Super Readers meet Tom Thumb, a little guy who sets off on a big adventure – and gets into some scrapes along the way. This tiny character teaches Pig a big lesson about when you need help.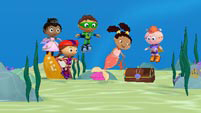 "The Little Mermaid" – Pig feels different from his friends, which makes him very sad. TheSuper Readers dive into the story "The Little Mermaid" to talk with someone whose tail sets her apart from kids on land. As the Super Readers explore the ocean floor with The Little Mermaid, Pig slowly begins to see why being different can be special and the journey to the depths of the sea teaches him a lesson he can use right in his own backyard. Top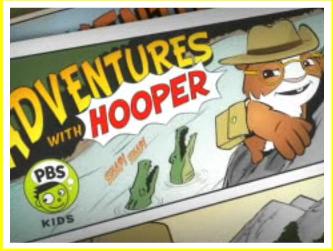 PBS Kids Programming Block, Season 5 (PBS Kids & pbskids.org)
"Adventures with Hooper" Interstitials – Hooper the guinea pig discovers unfamiliar objects and uses his imagination to recycle and repurpose them. Top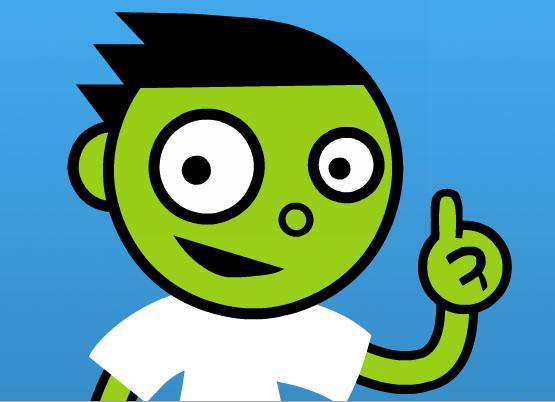 PBSKids Programming Block, Seasons 1 & 2 (PBS Kids)
"Dash's Game of the Day" Interstitials – Dash shows viewers how to play the pbskids.org games, Curious George, Dragon Tales, Clifford, Caillou, It's A Big, Big World. Top

PBSKids Programming Block, Season 1 (PBS Kids)
"Dressing Up", "Hooper's Baby Brother", "Eating New Foods", "Hooper the Hoopster: Healthy Living", "Rainy Day – Making Your Own Fun", "Hooper Saves the World" Top

Pinky Dinky Doo (Noggin)
"Neat–o Tuxedo" – When Tyler is reluctant to wear a tux at Uncle Binky Dinky Doo's wedding, Pinky relates a story about Sir Pedro the Penguin, who was hesitant to wear play clothes—until he found just the right outfit.

"Tyler's First Flight" – Tyler's nervous about flying on an airplane until Pinky tells him how Gus, a ladybug afraid of flying, conquered his fears.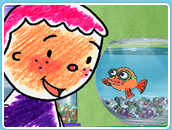 "Guppy Training Day" – Tyler is apprehensive about going for a dip in a big swimming pool, so Pinky tells him a story about Specs, a guppy who felt anxious about his gigantic aquarium, but learned to acclimate — stroke-by-stroke.

"Two Wheel Dreams" – When Tyler insists on riding a two–wheel bike before he's ready, Pinky tells a story about an out–of–control race that can only be won by using training wheels. Top

JoJo's Circus (The Disney Channel)
"Sleepover Surprises" – Bal Boa, the most mature of the gang, brings his magenta stuffed poodle with him to JoJo's first sleepover. He spends most of the night trying to hide Pearly the Poodle, until JoJo teaches him it's ok to sleep with a stuffed animal — she does, too!

"Join the Club" – When JoJo and her pals start their own club, they struggle to agree on the club's secret password and learn that compromise can be fun. Top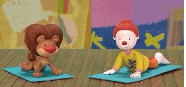 Feeling Good with JoJo Interstitials (The Disney Channel)
"Pop!", "Strong Clown", "Wipers", "Float" – JoJo and Goliath show viewers how to deal with every day issues through yoga.

JoJo's Circus Research Storybooks
"JoJo and the Beanstalk" & "Pie in the Sky" – Storybooks written for live focus groups, ages 3–6 years old. Top

Stanley (The Disney Channel)
"Snow Monkey See, Snow Monkey Do" – Learning about snow monkeys helps Stanley cope when his pal Lester's mimicry gets on his nerves.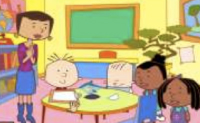 "Speedy Does It" – In preparation for an eight–legged race, Stanley and his friends learn about one of the fastest birds in the world – the roadrunner. Top